5 Crucial Elements of Digitizing Your Business
Digital transformation has been a business objective for some time now, so you'd be forgiven for thinking that most major organisations would have a solid strategy in place for its execution. The reality is something quite different. According to a 2017 survey by Wipro Digital, half of 400 U.S.-based senior executives believe their company isn't successfully executing 50% of their digital strategies. One in five say their company's digital transformation is a waste of time altogether.
To avoid becoming part of this statistic, it's important to create a strategic digital framework rooted in reality. By laying out a carefully planned digital structure, organisations can examine their ideas critically and take practical steps towards reaching their transformation goals. They will also be able to better anticipate any issues that may arise along the way.
Experts predict that digital transformation spending will reach $2 trillion by 2022, and if the Wipro Digital survey is anything to go by then much of this money could be wasted. Businesses therefore need to think carefully about which technology they're investing in and how they're implementing it, to ensure they actually see a return.
Here are five key elements needed to build a successful strategic digital framework:

This combination of strategic and practical elements will help you develop the structure and processes needed to successfully execute your digital transformation.
Clear objectives
The power of a strategic digital framework lies in its objectives. Less digitally mature companies tend to focus on specific technologies and using them to improve general operations, while more mature organisations create digital strategies with the intention of transforming their business entirely.
One method that walks the line between these approaches is McKinsey's digital transformation model. According to McKinsey, technology drives value in businesses in four ways: product innovation, automation, enhanced connectivity, and improved decision-making.
This digital framework looks at the impact of digital on your internal processes, but also at how it can be strategically harnessed to become more competitive within your market.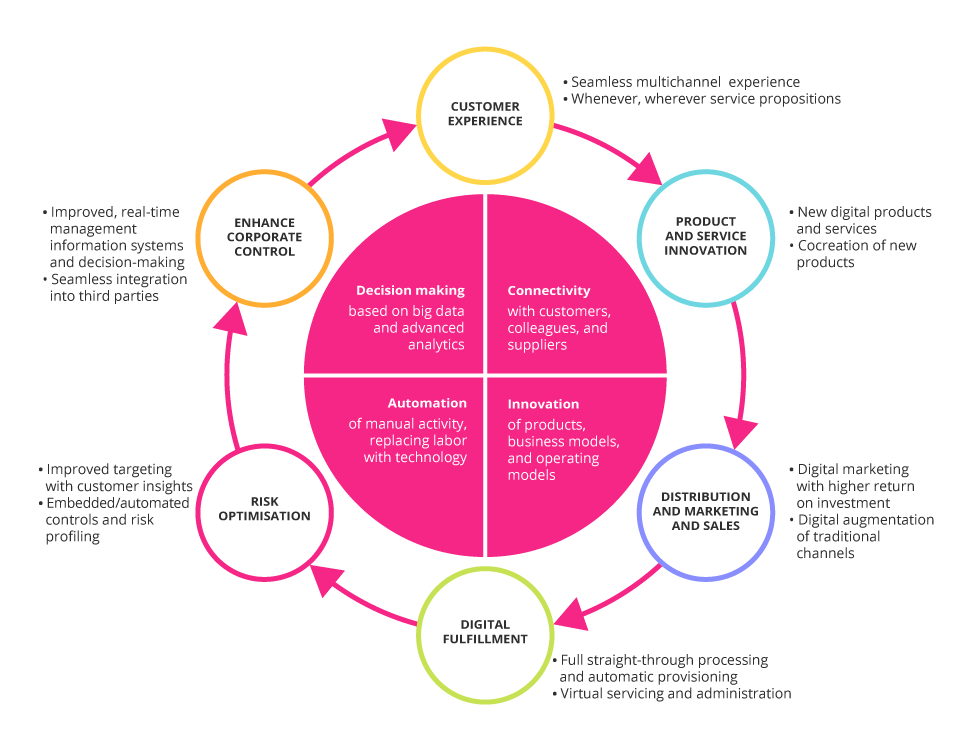 Source: Olanrewaju,T., & Willmott, P. (Nd). 'Finding your digital sweet spot'. Retrieved from McKinsey. Accessed 3 May 2019.
Whether you're completely transforming your business model or just want to improve overall operations, having a clear objective in mind when designing your strategic framework is imperative.
To start on this journey, ask yourself the following questions:
Why are you investing in digital transformation?
What is your priority?
How will you measure success?
What is your starting point?
An integrated approach
Companies function across a number of different technical systems, so an integrated approach is essential when considering digital transformation.
Your customers don't only interact with you once, but through multiple touch points throughout the customer journey – each requiring their own system and process. You may run marketing activities in one system, handle customer enquiries in another, and record their data in yet another system.
Nowadays, customers expect this process to run as smoothly as possible. As a result, the more you can automate and improve every step in the value chain, the better the experience for both your customers and your staff.
Buy-in from leaders
All too often, a lack of digital adoption is rooted in a lack of leadership – specifically executives who haven't developed the right mindset towards digital strategy.
According to research from Digital McKinsey, many leaders are prone to being overly cautious when it comes to transformation, adding that "In today's environment, making incremental changes is like rearranging the deck chairs on the Titanic." Without a commitment to real transformation, the chances are high that your efforts will fail.
This kind of shift requires company-wide adoption, and leaders need to take the reins in bridging the gap between technology and business. While you could look at digital strategy from both a top-down and bottom-up approach, leaders' buy-in is critical at every step. People at the top have a greater understanding of both the market in which they work and their internal business needs, and – most importantly – have the authority to drive change.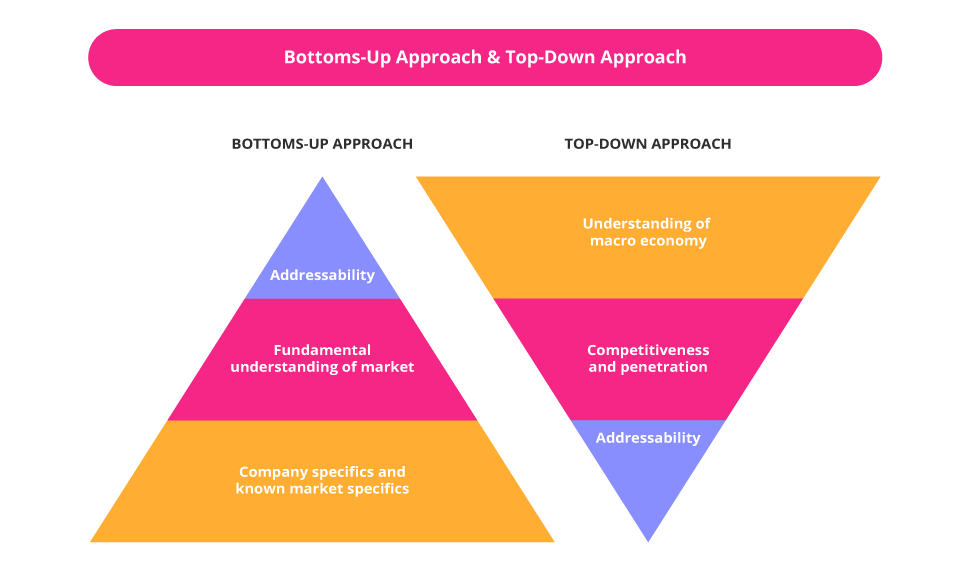 Source: (Nd). 'Bottom up approach and top down approach'. Retrieved from Slidegeeks. Accessed on 3 May 2019.
Adaptability
The landscape in which business operates is continuously evolving, so organisations today should be prepared to evolve their strategies along with it. With this in mind, it's important to design a digital framework that considers changing market scenarios and evolving technologies. To do so, leaders should prioritise agility and innovation in every step.
An agile approach can help you make incremental, iterative progress towards your goals, while also allowing you to manage the complexity and unpredictability of digital projects. To stay adaptable, you'll also need to engage with peers and thought leaders. This will help keep your knowledge up to date so that you can anticipate future disruptions that could give you a competitive advantage.
Skills focused
One of your top priorities in a digital strategy should be to ensure you have the right mix of skills in your team to work across the entire transformation lifecycle.
To implement innovative technologies, you'll need skilled IT people, with an understanding of disruptive technology, who can turn your ideas into an actionable plan. However, IT is just one of the skills needed for running a successful transformation project. In an interview on navigating digital transformation, Adobe's director of talent development, Danielle Clark says: "From people management to machine learning, we place an emphasis on cultivating both the soft and hard skills that will allow Adobe to continue growing and scaling."
Some other crucial skills include:
Data analytics
Software development
Cybersecurity
Digital literacy
Change management
Creativity
When digitally reimagining your company, it's important that your framework considers the above elements. Without them, you run the risk of pushing capital into ventures that are essentially a waste of time and money. Above all, your framework needs to have a clear objective, drive adoption and adaptability, and prioritise a skilled workforce who can develop and shape your digital future.